Relish Patisserie and Becoming Kochi's New Favourite Macaron Haven
"I knew that it was finally time to invest in myself; that's how and when Relish happened."
In Conversation with Elizabeth Anchan & Reji John
Co-Founders, Relish Patisserie
You're in for a sweet treat once you get yourself a box of those exquisite macarons from Relish Patisserie. At first sight, you already know that the chef knows what she's doing—the smooth top, the classic appearance of feet and on the first bite, a flavour-packed combination of textures of the shell and filling, all of which get your eyes to roll to the back of your head! With something to suit every palate and a few seasonal additions to their macaron menu, you're spoilt for choice.
However, these delicious little French cookies are not all that's on the Relish Patisserie menu. Their selection of delicious pastries, brownies and mousse jars are almost always sold out every evening. They also believe in keeping lower-priced delicious items like banana bread, mini cupcakes, hot cross buns (seasonal thing) and cinnamon rolls to cater to the customers who may not always have the budget to splurge but still want to get their cravings fulfilled.
Business Periscope speaks to the co-founders of Relish Patisserie, Elizabeth Anchan and Reji John, to learn about their journey so far and becoming Kochi's new favourite macaron haven!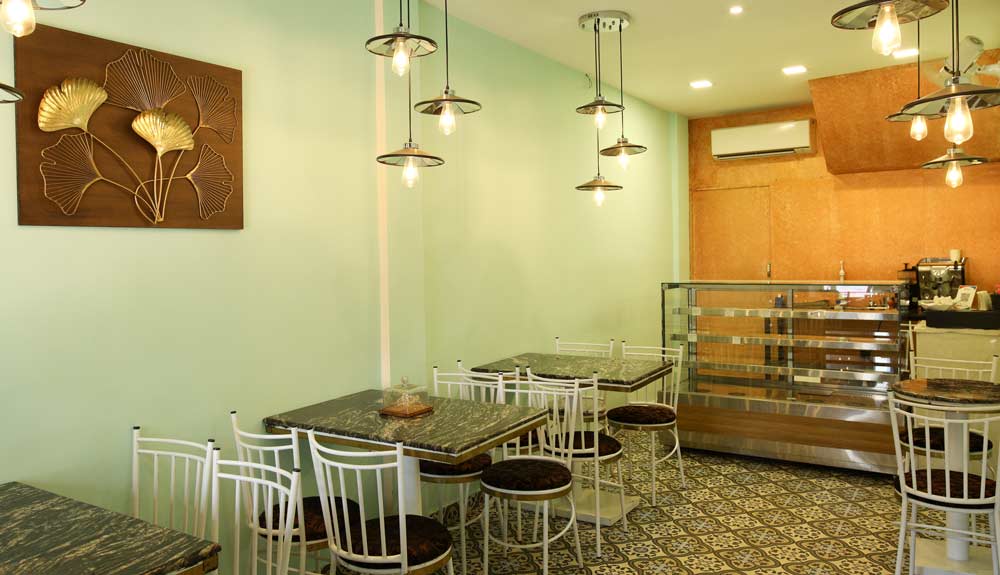 As a fresher out of college, Elizabeth Anchan was unsure about her path ahead. Baking at home and creating sweet treats for her friends and family was something she was somewhat used to, so she just followed her friends' and got herself enrolled into a baking class not thinking much of it. While she did pick up a few skills there, the class did a lot more than just training her in baking and icing cakes—it lit the flame to discovering her passion. Even during this introductory pastry course at White Lotus School of Cake Decoration Arts in Pune, she always found herself on the receiving end of appreciation. It was a passion, and it was something she was good at.
She did her research, and she realised that work experience was worth its weight in gold when it came to the culinary arts; even more so than a degree. She started her professional career as a pastry chef in the same institute she trained for her 6-month long diploma in.
Within eight months at the institute with a fair share of lessons to boot, she decided to move to Mumbai and work at Magazine Street Kitchen- her first formal introduction and the start of a love story for baking bread, puff pastries and croissants. Then, came the big move.
Her big break at Marriott Kochi! She recalls how rewarding yet exhausting the grind of working as a pastry chef there was. But, it was during her stint at Marriott that Elizabeth saw the potential in Kochi to start something of her own possibly. Despite the language barrier, she somehow always felt right at home and loved how welcoming the city was. This eventually led her to reconnect with one of her friends, Reji John, an accountant by profession who was also looking to set up a business.
What began as a small idea in an exhausted pastry chef's mind, with a little bit of a push and support from her friend, now stands as a quaint little French-looking patisserie on the busy Palarivattom main road!
In the early years, the biggest challenge that Elizabeth faced was the competitive and slightly unfair conditions women aspiring to become pastry chefs met. There's the apparent physical strain involved, the long shift hours and the safety concerns of travelling back home in the wee hours of the morning.
Becoming her own boss was always on the cards—then again, that came with a whole new set of challenges. Once the idea was set back in early 2019, scouting for a location, negotiating a deal and getting it ready just marked the beginning of an uphill road. While Reji had a clear understanding of the theoretical knowledge to set up a business, the practical experience had many more lessons to teach! It was a year of balancing their full-time jobs and setting up their passion project. Both of them being in their 20s and partial outsiders to Kochi, believed that perhaps they weren't taken as seriously initially, delaying the process to set up. Still, they noticed a shift in people's attitudes as their shop began taking shape.
Both Elizabeth and Reji believed and persevered through it all, seeing the potential that a Kochi-based patisserie would have for growth. The name was the last thing they finalised on, and with that, after a year of pushing to make the impossible happen, Relish Patisserie had finally become a reality. Reji believes that if you have the drive to start a business, you should! Take your time to do your research before you jump into setting up your own business; he echoes soon after.
Elizabeth had to learn to work around the Kerala humidity when creating her exclusive weather-sensitive French desserts, a challenge she hadn't even remotely expected before setting up shop. Even though they both now begin their workday at 7.30 am, working around the clock until closing time and beyond, the 13+ hours of non-stop work gives them more satisfaction than any job before ever could. The pandemic had forced their staff to take a break, and they had to adapt to managing everything themselves, including cleaning and organising the desk. Scheduling their daily work in advance and taking short breaks in between have helped them cope with the stress of a patisserie operating in full swing.
However, not for a single moment did the duo behind Kochi's hottest new patisserie regret the struggle that went into setting it up and getting it to survive its first year amidst a pandemic. They remain grateful—they are learning at every step while finally being their own bosses, investing in themselves and their skills, all in the pursuit of their passions—and they wouldn't have it any other way.
The next addition to the Relish menu that Elizabeth alerts Kochi to watch out for are croissants and puff pastries. They intend on expanding their range of savoury items too.
Relish co-founder Reji has just one thing to say regarding their growth- it's definitely on the cards, but only at a slow and steady pace. Elizabeth's vision for expansion would include a more prominent central kitchen with more equipment so they can focus on maintaining quality control while opening up outlets or pick-up counters in more locations. They also aim to expand their team to include more staff but are being cautious and waiting until the pandemic slows down, to do so.
Relish Patisserie's popularity has been soaring, their reach expanding far and wide. Elizabeth finds it incredibly heartwarming when she can greet repeat customers who come from really far away to buy a box of Relish macarons! Something as little as a smile on a kid's face, a customer coming in again to get their favourite pastry or fulfilling someone's pregnancy cravings; yes, the joy of getting completely sold out is unparalleled, but every day at Relish for Elizabeth and Reji holds its little feelings of happiness.