Navigating the realm of business through the high tides of pandemic
"Improving your resilient nature will help you acknowledge the fact that unpleasant situations are not permanent."
In Conversation with Venkatesh Krishna Murthy
Founder & CEO, Wharf Street Strategies | Founder & CEO, Wharf Street Studios
Some words create epiphanies for centuries, while some are the motivation behind epiphanies that changed the world. Venkatesh Krishna Murthy is one such name in the business industry who heard his calling and strived hard to make his dreams come true. Just like any other successful entrepreneur, it took Venkatesh some time to realise that if he could help others build their dreams, he could take a leap of faith for his own ambitions. Today, we know his vision company by the name Wharf Street Strategies Limited.
His extensive experience of working with several start-ups during the initial years of his career played an instrumental role in helping him understand the start-up ecosystem in a better way. Also, grappling with challenges at various stages of running his own start-up became easier with immense exposure and practical experience at hand which he gained over a period.
Someone has rightly said that "If the plan does not work, change the plan but not the goal". Venkatesh's zeal and enthusiasm to sail through all the challenges in the times of pandemic clearly illustrates his deep desire to pursue his dreams. Undoubtedly, Venkatesh Krishna Murthy is a name synonymous to relentless hard work, undying passion, selfless ambition, and a 'never give up' attitude.

What led him to start his disruptive product 'ConnectUp' was his immense desire to make education accessible to students for free. This passion for teaching stems from his own past experiences wherein he always felt deprived of the right guidance and expert advice. Reminiscing about the past, Venkatesh recalls how he struggled to find someone who would encourage him to do better, inspire him to chase his dreams and motivate him to follow his instincts.
Despite the lack of proper counselling which created roadblocks at several stages of his career, he persevered to pave his own path to success. Today with "ConnectUp" pioneering in the Social Media EdTech space, his sole motive has been to build a cohesive network of students, mentors, companies, and universities bringing them under one umbrella. This lucrative platform facilitates its stakeholders to engage, collaborate, share knowledge, and develop authentic relationships.
It started with the aim of mentoring students and millennials to shape their future goals. The ultimate vision has been to groom them holistically and help them realise their true inner potential. Apart from that, collaborative events and sessions on the platform have paved the way to multitude of opportunities for the learners.
What makes Venkatesh stand out in the crowd are his mentoring skills and his vast experience of working with diverse start-ups and universities in the UK and India. He plans to launch a non-term credit course (NTCC) to ensure pragmatic learning opportunities. Venkatesh emphasizes on the practical aspects of learning which are crucial for getting a job. He strongly feels that transitioning from a "student" to a "working professional" involves a systematic approach. From mastering communication to developing soft skills, it is a long road to success. Apart from that, Venkatesh also focuses on the power of positive mindset and thinking big to achieve great results.
ConnectUp is a by-product of the difficulties that Venkatesh faced in his youth. His sole intent to keep this platform accessible to one and all shows his immense determination to create an impact.
In the year 2020, his work on this front was recognised by the UK Government and he got recognition as an "Innovator" for disruptions in the education and training industry.
As a child, interesting moral stories of Ramayana, Mahabharata, and Puranas always fascinated Venkatesh. Recalling his childhood days, Venkatesh says that the fancy world of Indian mythological characters was intriguing for him, staying with him to date.
Under his leadership, his team took another initiative and designed its first "Cinematic motion-3D Augmented Reality" game Epiko Regal, which was launched on 15th August, 2021 on Android and iOS. Venkatesh wishes to introduce these superheroes to the new generation in an interactive manner, as an ideal way to nurture and teach kids. The aim is to inculcate good moral values of honesty, integrity, righteousness, and morality via digital comics while giving them exposure to a fun game.
The game involves creative elements of Augmented Reality based Digital Collectibles and cinematic comics, complemented with a strategic game with AI. In Toycathon 2021, a national competition organised by the Government of India under the Aatma Nirbhar program, his game Epiko Regal emerged as one of the winners. Epiko Regal provides an ecosystem for users to develop their cognitive skills with strategic P2P mobile games alongside digital collectibles/virtual toys which is fascinating!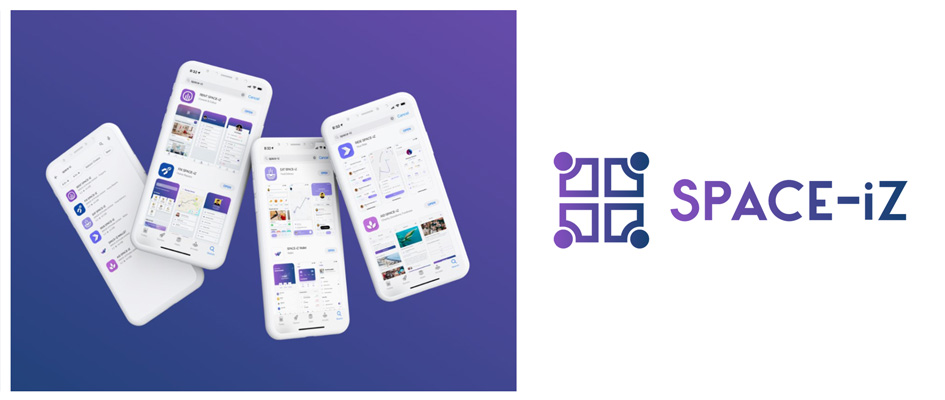 Venkatesh's thirst for knowledge and constant experimentation led him to venture into the emerging service market as well. He got the exposure after he was invited to come onboard with SPACE-iZ and remodel their plans. Venkatesh was a bit apprehensive about his success but the soft launch of the first product 'RENT SPACE-iZ' got all anxieties at bay.
SPACE-iZ is a new way of doing business to revolutionize the service sector. The process is further eased with a one stop wallet service to power other applications in the ecosystem. It aims at benefitting users looking for renting spaces along with maintenance services supplemented by food deliveries and discounted travel options.
'RENT SPACE-iZ', their first product is for properties to market their listed spaces to the target customer base and users to access private, personal, and commercial properties, hotels, and homestays using a token mechanism to avail discounts on their rentals.
The other products in the ecosystem yet to launch are 'FIX SPACE-iZ', 'EAT SPACE-iZ' and 'RIDE SPACE-iZ'. All the applications are built on the enterprise cloud on a mobile device, but the plan is to encompass the web version of blockchain with the help of wallets to power these models and make most of the tokens.
Venkatesh owes a part of his success to Haroon Rashid, the Founder of SPACE-iZ. The fact that Haroon and Venkatesh could align to build this product to address pain points of users, was due to their similarity of goals and mindset. Someone has rightly said that "Great minds think alike" and that has helped align the goals of the co-founders together in a cohesive manner. Consequently, Venkatesh was made the CEO of SPACE-iZ in October 2020.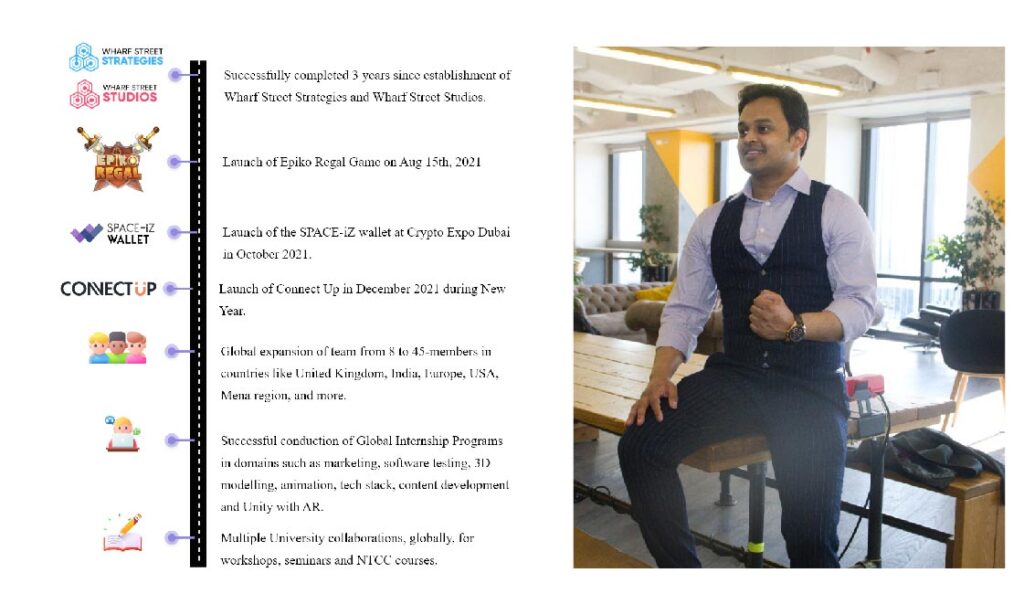 Covid 19 - Pulling Through Tough Tides
Pandemic led to a dynamic shift in the work ethics at Wharf Street Strategies, as it was a turning point for Venkatesh who had to overcome business challenges. At this point, syncing with the company's mission and vision was needed for things to fall in place, hence crucial decisions were taken to accelerate the growth of the company.
Venkatesh had to make a tough call this time to rebuild a passionate team with a positive mindset and right attitude. According to him, one cannot sustain in this competitive market unless one possesses a headstrong mindset.
The goal to rebuild a new team turned out to be a blessing in disguise as at this point, they were transitioning into products from services. This further enabled him to create a business development team in the UK by instilling confidence and gaining required experience to extensively set his future goals. Hereon, the transition from being a service company to a product-based company became smoother than before.
Being a visionary by nature, creating a healthy and conducive environment was the aim. According to him, one's strategy to nurture inner passion should be a priority for any company as change in perspective motivates one to produce effective results. Also, Venkatesh elaborates about looking at a task holistically and measuring it in terms of productivity.
Venkatesh credits a part of his success to his co-founders Jagadeesh Madichetty, Vikram Bhandari, Aniket Bhosale, and Sonali Bansal who introduced best practices to manage the company and streamline the entire process of operations.
Challenges in the path did act as a roadblock but he sailed through despite all the odds. He envisions to put his mechanical degree to use by introducing electric vehicles, graphene technology, robotic equipment with Arduino, new range of cooling systems, dehumidifiers, heat pumps, drones, and many other apparatuses under a new label that is Wharf Street Motors incorporated in July 2021.
Reflecting on Venkatesh's achievements from early 2020, the year started with his interview at the London Stock Exchange and authoring a debut novel 'Confidence Sponsored by Pain'.
He is proud of the strides he made through his professional life, persevering through the pandemic – "It is all about making the best out of any situation. When the pandemic hit us all and we were cornered with all the unknown challenges. I just knew one thing: to rebuild a passionate team and push through it."
Venkatesh's zeal and enthusiasm to sail through all the challenges in the times of pandemic clearly illustrates his deep desire to pursue his dreams selflessly by serving the youth.