Dr Ashna Haneesh's Inspiring Journey - The Dentist Entrepreneur
"Whatever it is, there will be ups and downs- it is important to keep moving ahead. We should constantly grow and evolve, no matter what."
In Conversation with Dr Ashna Haneesh
Director, Promoter & Chief Dental Surgeon, Futureace Hospital
Though becoming a dentist was more of an afterthought to her intention of pursuing a medical degree, looking back to 2002, Dr Ashna Haneesh is glad that things didn't work out the way she initially wanted it to.
After completion of her BDS degree from Farooqia Dental College, she spent the following years gaining experience in Madha Dental College and Iqra International Hospital. Not long after, she got pregnant with triplets and being advised to remain on strict bedrest, she was forced to forgo her dental duties for a while. While the birth of her triplets Muhammed Ahsan, Halah Swaliha and Haniah Mariam in 2012 brought her immense joy, it was blemished a week later with the passing of her beloved mother to aplastic anemia. 
Dr Ashna dedicated the next three years of her life to watching her kids grow and looking after them, taking a break from the career that she had come to love. However, her dream of pursuing a Masters' degree never left her and it was perhaps this unfading intention that eventually made it happen, albeit in a sour twist of fate.
Her husband, Dr Haneesh Meerasa, got diagnosed with a rare life-threatening disease called Guillain-Barre syndrome leaving him paralysed for almost two weeks. He underwent treatment in AIIMS, New Delhi following up with his therapy from Amrita Hospital, Kochi. It was during these trying times that Dr Ashna followed her professional life's aspirations with a vision, while continuing to manage her personal life.
In 2015, Dr Ashna joined for PG in the Department of Prosthodontics, Amrita School of Dentistry— one of the toughest and most labour-intensive dental post graduation courses to exist. Balancing her home, caring for the triplets while handling another pregnancy and bringing her fourth kid Hessah Hind into the world along with the obvious strains of the degree, were challenging to say the least. "No matter how far I go, my biggest personal achievement and challenge both will definitely be getting my PG degree."
After her PG, she began working at Indira Gandhi Hospital, Kadavanthra building the practice from the ground up independently, a real learning curve. She participated in as many courses as she could, enrolled in Continuing Dental Education programmes and kept learning to assimilate all the knowledge that she could to better her practice. In addition to being a member of the Indian Dental Association (IDA) and Indian Prosthodontic Society (IPS), Dr Ashna is currently pursuing an Associate fellowship in the specialised field of Laser Dentistry from the Asian Academy of Laser Therapy. She also plays a major role in raising dental awareness amongst the public via social media and TV programs such as Dr Live.
"Don't stop learning. Whatever you learn remains with you until your last breath," says Dr Ashna and this simple yet profound statement is truly reflective of her life for the past decade. She continued to focus on continuing to learn despite the trials and tribulations of her personal life, making her an inspiration to all. She has a lot of gratitude for the support she received from her husband Dr Haneesh Meerasa and the rest of her immediate family (her four kids, father- Abdul Kadher Lebba, mother- Late Arifa Beevi, Kayyumma, sister- Ashmi, atha– MP Meerasa, amma– Swaliha Beevi and anna– Sheyas Meerasa), relatives, teachers, friends and colleagues who have all played a very important role in inching her closer to the pursuit of her dreams.
"If you have the will to achieve something, nothing can stop you. The first thing is to have a dream- visualise where you want to see yourself and work towards it. Focus on how to build. Everyday you have lots of opportunities; you should have the eye to trace it out. Figure out how you can grow. There will be struggles, you may feel like giving up- that is normal. But, don't give up," is the advice Dr Ashna Haneesh has for people regardless of gender, age or profession.
Remaining rooted in a dental background, Dr Ashna has a tryst with business too, being the Managing Partner of AMA Associates- a pharmaceuticals and super stockist firm. She is also an active Business Network International (BNI), TiE and Women Entrepreneur Network (WEN) member. This unique blend of healthcare and business made her quite the natural and forged the path ahead for Dr Ashna Haneesh to become the Chief Dental Surgeon at Futureace Hospital and lead the multi-specialty hospital's "star department"!

Futureace Hospital, set in the heart of Kochi at close proximity to Lulu Mall and Marriott, was Dr Ashna and a collective of young doctors' dream venture alongside two Directors & Promoters- Neurosurgeon Dr Dalvin Thomas and Anesthesiologist Dr Anwar Hassan. Futureace Hospital is a consortium of 42 doctors who function as partners. The hospital's simple three-word byline saying 'I am healthy' is an indication of the affirmation they want to lend to all their patients through the services undertaken there.
Being such a large team, there are obvious challenges when it comes to contrasting backgrounds. When asked how she deals with these issues, Dr Ashna puts it quite simply by saying, "I manage a house with four kids and this is definitely a plus point for me when it comes to handling them. We should learn to find the balance and keep an optimum level, regardless of the pressures."
Acting both as a medical hub as well as a centre specialised for getting second opinions from, Futureace's 'boutique' hospital model is truly revolutionary. Catering to limited crowds in a futuristic ultra-modern setup, the ethos at Futureace Hospital is to deliver unparalleled high-quality care in an ethical, trustworthy and dignified manner at affordable rates.
The model is tailored to ensure maximum convenience for patients and their families, since they just have to book for an appointment at the state-of-the-art facility with expert medical practitioners, getting all of the family's medical issues looked at. Of these 22 multispeciality departments, seven are run as Centers for Excellence (CoE)- one of them being Dr Ashna's dental unit with 32 consultants in total. In the dental unit, all procedures including the ones performed under general anesthesia are conducted under one roof at Futureace.
Futureace Hospital has two operation theatres, a 24-hour pharmacy, a full-fledged ICU with ventilators, a laboratory, ECHO, TMT, Ultrasound and 24×7 ambulance service. The hospital opened its doors in February 2020 and the intention was to become a destination for medical and dental tourism. "Kerala has the best doctors and Kochi has an advantage of being one of the best places for people to visit," Dr Ashna says, reiterating why Kerala has become a popular spot for medical tourism. She even began learning Arabic to improve her communication skills and connect better with her patients. The hospital continued to gain the trust from all their patients over the course of time.
"Hope is the one thing that guides us forward," Dr Ashna says of the COVID-19 pandemic and the following slowdown of the hospital's growth. "Whatever it is, there will be ups and downs- it is important to keep moving ahead. We should constantly grow and evolve, no matter what."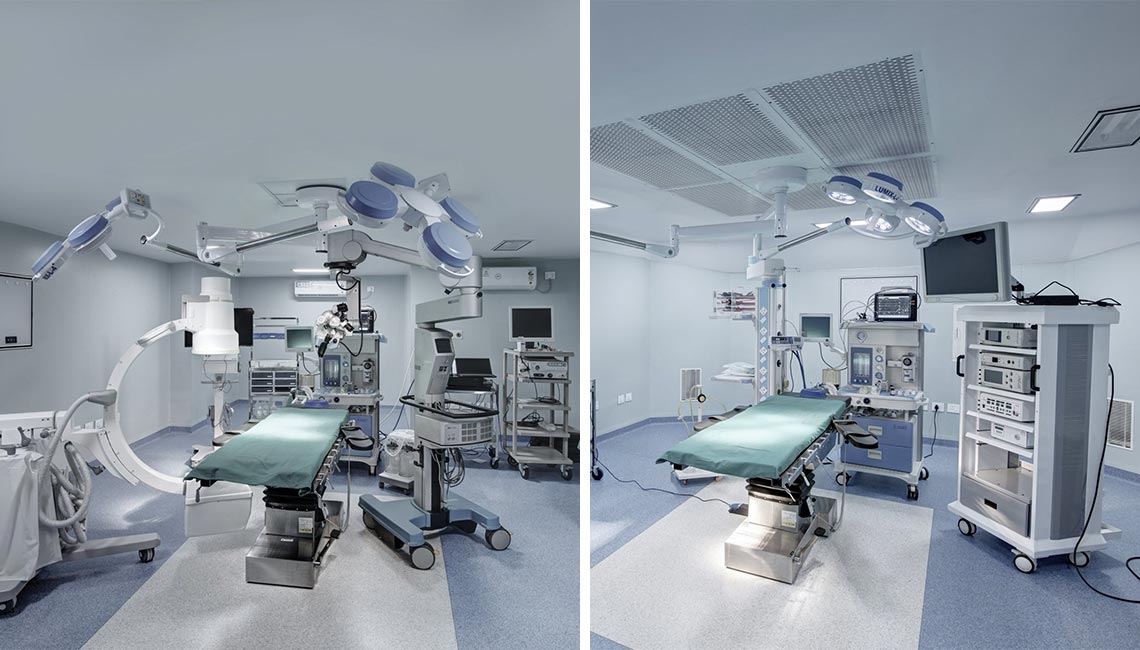 Moving forward with a belief, Dr Ashna recalls being surprised by the turnaround the hospital received even without their primary patient coming in. Within a period of nine months, during and after the lockdown, Futureace Hospital conducted over 255 surgeries and 520 procedures. She believes it was the power of networking that the large consortium had and the premium care they offered which actually spearheaded the uptick.
The collaborative approach between medical specialists at Futureace Hospital is directed towards providing truly personalised and the best possible care to all the patients. For being a high-end hospital, Futureace also believes in its social commitment and offers this premium care at subsidised rates (at their discretion) for patients who truly need the aid. This, Dr Ashna says, is only possible due to the selflessness of some of the consultant doctors on the team.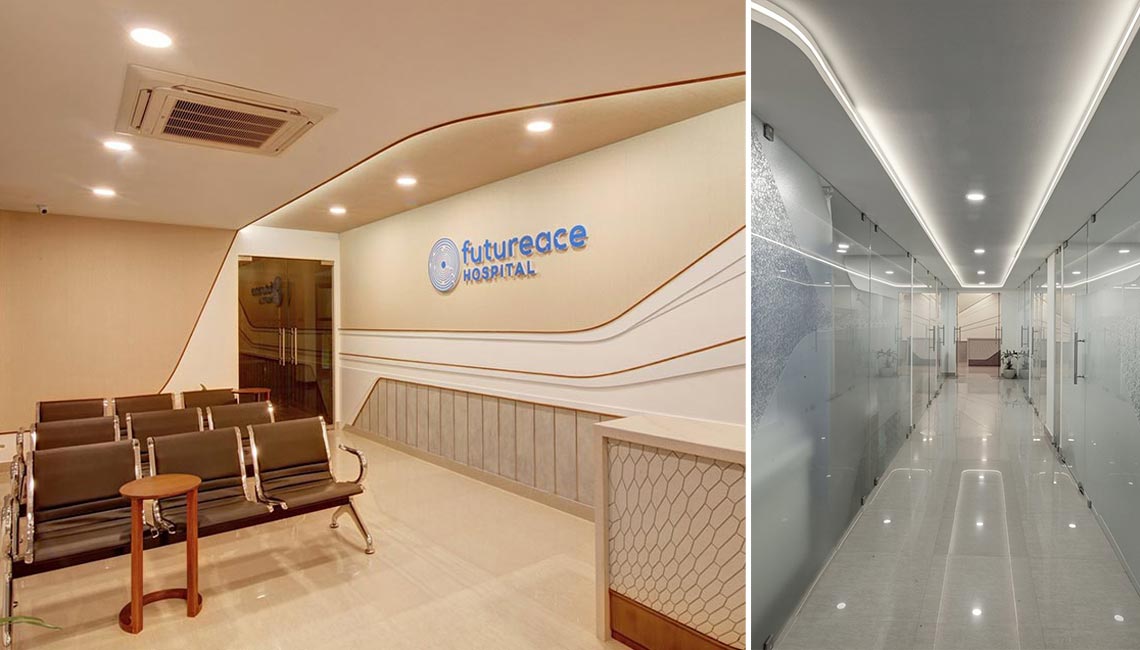 If the last one year has been any indication of the path ahead, Dr Ashna Haneesh seems very enthusiastic about the hospital's future. She anticipates becoming the policymakers of the future healthcare industry and thereby, amending the vision of the corporate hospital systems currently in place. With all the partners being medical professionals themselves along with backgrounds in business like herself- the priority is entirely on the provision of premium healthcare with steady growth being a secondary factor. "Don't follow money; money should follow you," Dr Ashna says, echoing the philosophy the hospital follows.
Dr Ashna Haneesh, her co-Directors and the entire team have a conviction that, with Futureace Hospital, they have set a strong foundation for moulding the hospital of the future..