Print Kochi: For Gifts that are Personalised to Perfection
"Not just a printing shop. Print Kochi is so much more"
In Conversation with Preman T T
Art Director, Print Kochi
The idea behind Print Kochi is simple: giving the customer exactly what they want, with a unique artistic flair to create a customised product or gift. Print Kochi, on these matters, is undoubtedly your best bet!
Coming from a creative background with an interest and an eye for design, Preman TT (fondly known by all as Prem), always hoped to carve out a niche career for himself combining the best of business and art- and Print Kochi is a realisation of that passion.
Prem narrates that most businesses in this field today are involved only in trading or selling a product. Yes, it may be possible to get an image or text of your liking printed onto a product. However, Print Kochi takes things a step further with their degree of personalisation offered- right from conceptualisation to custom design and final product outcomes.
Prem is a Fine Arts graduate from RLV College, Tripunithura and he went on to work at an advertising agency fresh out of college. From his student days back in the early 2000s to garner additional income, Prem would work closely with studios helping them with designing and he looks back and reflects that this gave him a head start into his destined line of work. This led him to start his first venture called Axis Photobooks in 2001 which now, 20 years down the line, is a roaring success for being innovators in the field with progressive photo books amongst many other things. Unknowingly, his tryst with running Axis Photobooks also serendipitously was setting up the foundation for his second venture, Print Kochi.
The work for his basal company was of a B2B setup wherein the work would be done with studios and photography companies, Prem was looking to get to a position where he could interact directly with the customers and create magic with them, for them. Print Kochi was an idea that Preman TT has been manifesting for a long time coming- and they finally opened their doors to the public in October 2020.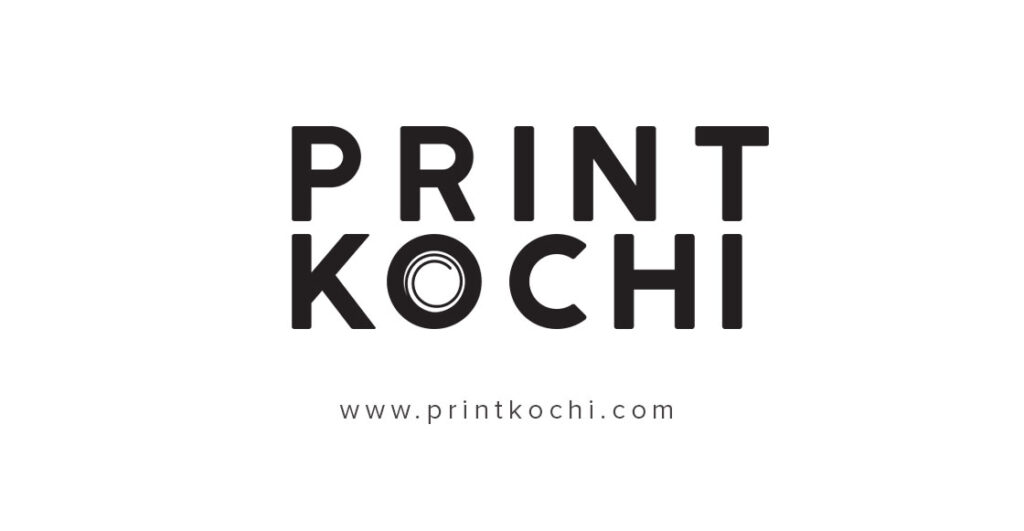 When asked if he believes that it is an advantage or a disadvantage remaining in the world of print as the world proceeds to becoming increasingly digital, Prem says that there is always a charm that surrounds receiving a truly personalised and useful gift or product.
Think about it- getting a message online wishing you a happy birthday may feel special, but nothing can quite put a smile on your face and set your heart aflutter like a thoughtful gift made specially with you in mind. In this sense, print (and all of its offerings) are truly eternal.
Be it a gift to someone to celebrate a special occasion, large-scale corporate gifting or favours for events, the Print Kochi team has the creativity, ideas and over 16 product categories with a multitude of customisation options to find something to fit your budget. And why would anyone opt for a run-off-the-mill gift when an opportunity like this 'presents' itself?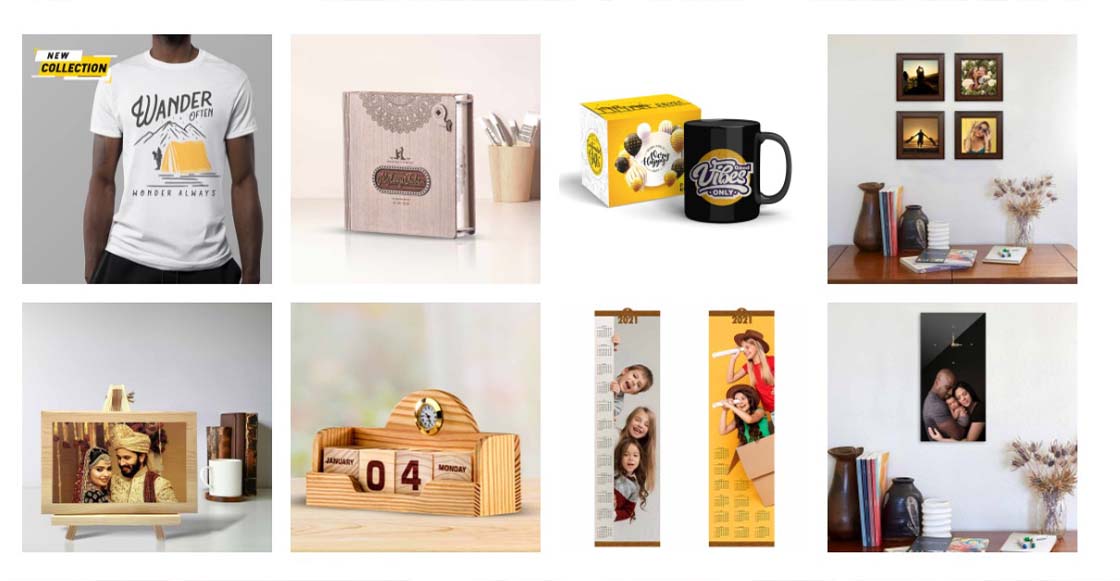 Right from customised t-shirts, mugs, magnets to unique wooden gifts, custom wall and table top clocks, gift boxes all the way to photo frames, cards, albums to badges- Print Kochi has it all and more! Engraved, printed or embossed in the colours you want and love- they're always personalised to perfection.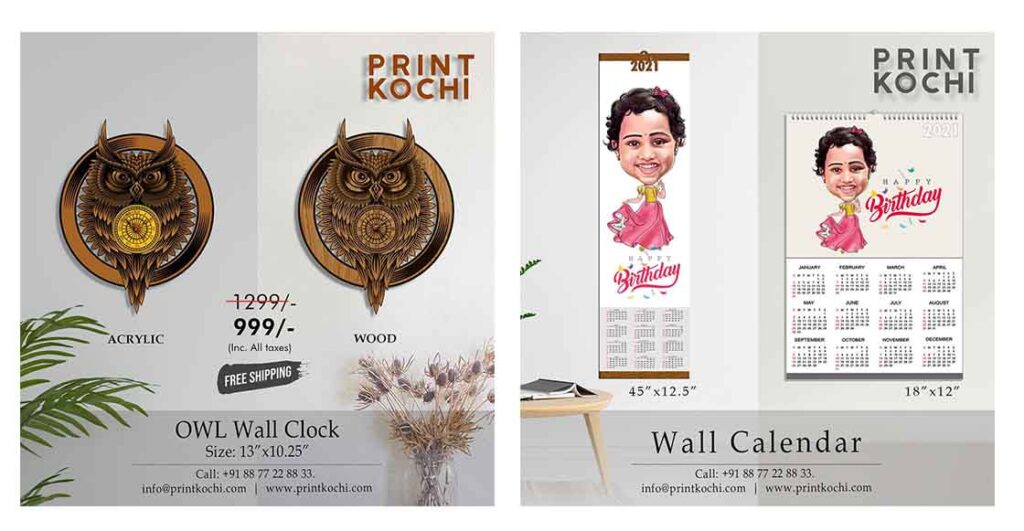 While basic fridge magnets and badges may be the cheapest products on their portfolio, with several mid-range products, they also have a select range of premium products. He opens up a gift box made of premium engraved wood that has a screen which plays a video once opened which is priced at Rs 10,000/- a piece. While the price tag may seem heavy, one look at the product and quality offered would assure a customer to surely consider investing!
"Since the priority at Print Kochi has always been on quality, our pricing often reflects that, especially with premium products. Our competition may offer the same product but will be ranked below in quality and creativity." Prem says of his organisation.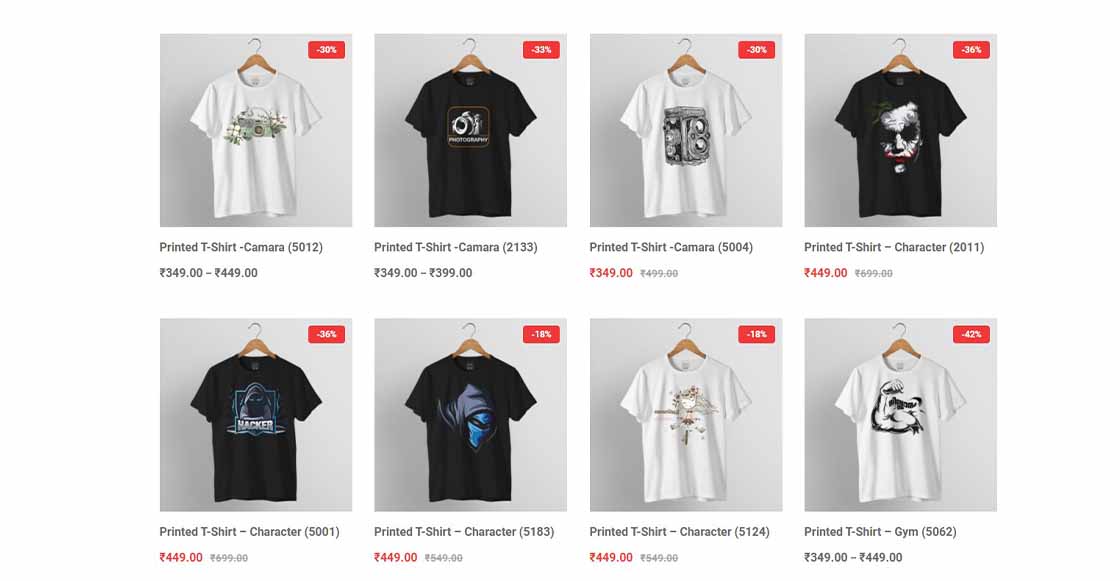 Other online or offline print stores would only allow you to pick from their repository of options and usually only entertain personalisation on bulk orders. Even for personalised merchandise, the customer would have to have the design created in the required specifications to be printed onto the product. With Print Kochi, on the other hand, you could walk in without an inkling of an idea, go through the journey of ideation, creation and designing with the team and walk out with a unique gift (or gifts) that fits your budget and that the receiver is surely going to love. Whether you want to create just one or a thousand of the same product, they get the job done.
"Our team is full of creative people; no matter how tough the job is, we always get it done," Prem says of his beloved employees.
Making use of DTG (Direct to Garment) printing technologies for cotton t-shirt printing along with several other types of printers (digital printing machine, UV printing machine, laser printing machine and large format printing machine to name a few) for their other products, the state of the art machinery at Print Kochi too assists in wrapping up the process sooner. Once completed, the products then get beautifully packed before making their way to their destination. Customers pan-India are also assured of doorstep delivery and for those within Kochi, they even guarantee 1-day delivery!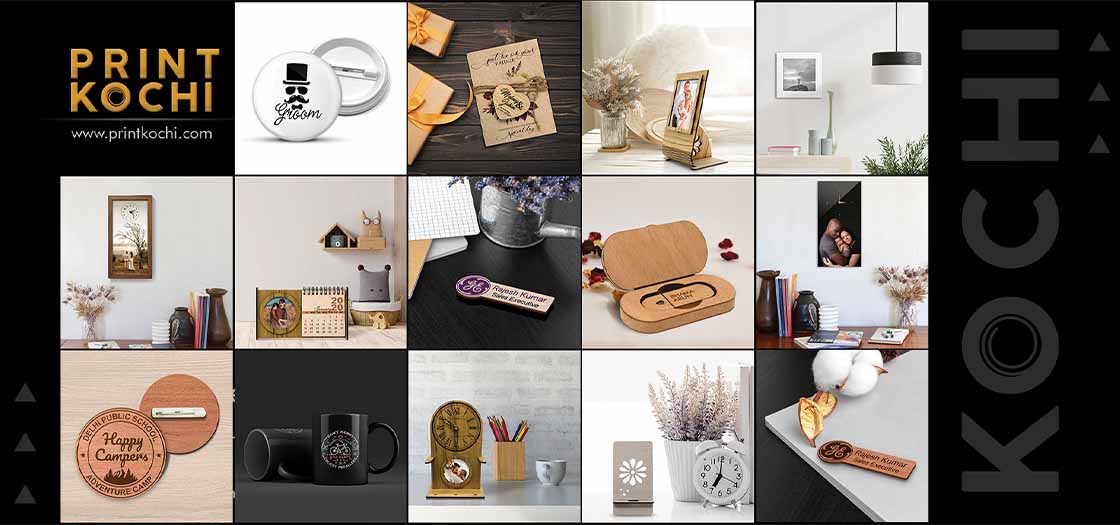 Prem has worked with the likes of Jayasurya and several other members of the film fraternity for handouts at events like launches and shows. Their innovative products are a popular choice for corporate gifting and party favours too. However, the distinctive concepts and the spectrum of budgets they can adapt to make Print Kochi's services within the reach of everyone- from celebrities to corporates to the common man.
One of the recent large-scale corporate gifting projects that Prem recounts was for a Perumbavoor-based Aluminium company. They were in hunt of a gift to give clients in the month of January. Prem put forth an idea of a unique desktop perpetual calendar, created by him, made of wood and customised to the company's colours. Safe to say, the clients were floored and approved the idea immediately.
They have even made unique gifts for a renowned luxury resort to hand out to their guests. While customised t-shirts may be available from other outlets, the Print Kochi packaging is truly a class apart.
Prem speaks of how they bagged another huge project for wedding favours only because the clients couldn't get enough of their unique eco-friendly packaging for all the custom tees. Finally, along with the tees, the boxes were finally designed by the team in line with the wedding theme with the logo.
This just goes to show the extent to which customisation is valued by customers.
"I really enjoy the work I do- I spend almost all my time here. I work all through the week only because I find it interesting. If I get started on a project, I often lose track of time, hunger and just end up spending a bulk of the day at Print Kochi," Prem says. "If people enjoy what they do, that's all that matters. Returns are important but don't focus only on the returns."
"Since I'm less of a businessperson and more of an artist, I tend to focus more on creation than anything else," Prem says, adding that this is one of his bigger challenges. His creative background is not rooted in business and marketing is something he continues to learn everyday. "I know how to create a brilliant product- now I need to learn how to sell it!"
Prem has no lofty goals set in place for Print Kochi- he likes to keep things simple. "I want us to become a good organisation which continues to earn and keep the trust of customers. We hope to keep growing at a steady pace, that's all."
Print Kochi always goes the extra mile when it comes to personalisation. "Not just a printing shop. Print Kochi is so much more", Preman TT assures and puts into 'print'.